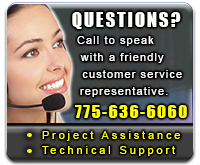 FREE SHIPPING
For Orders Over $200
Orders Shipped within Continental USA
CATEGORIES
LED INFORMATION
Mean Well LED Power Supply CV 1000W - 24VDC
SKU: PS-MW-1000-24
This Mean Well 1000W, 24VDC LED Power Supply / Transformer, has a 100 - 240AC input and 24VDC output. For dry locations only. Built in short circuit, overload, over voltage, and overheating protection allows for system shutdown upon any of these circumstances. Forced air cooling by built in DC fan allows for cool operating temperatures. Note: The cooling fan runs noisy and may not be suitable for all applications. Working temperatures are -4°F through 140°F. CN3 port allows for remote control of this power supply. It can be used to connect large amounts of LED Wall Washers, LED Lights, LED Light Ribbons, RGB LED lighting and any other 24VDC Constant Voltage LED Lighting products. UL and CE approved. Can connect up to 900 watts of 24VDC LED lights. Only install face up with sufficient breathing space.
Model
1000W, 24VDC LED Power Supply
SKU
PS-MW-1000-24
Dimensions
10.94"L x 5.0"W x 2.5"H
AC Input Voltage
100 - 240VAC
DC Output
24VDC / 41.7A
Output Watts Max
1000 WATTS
Rating
Dry
Warranty Period
1 Year
110V Wall Plug Cord Three Prong - 6ft




SKU - LA-EL-CON1 View Product Page
A three prong 110V wall plug power cord for LED Power Supplies. This cord is used to connect a power supply to a 110 volt outlet. 16AWG, 6' long 3 prong, 3 wire. Black wire = Load, White wire = Neutral, Green wire = Ground.
RELATED PRODUCTS