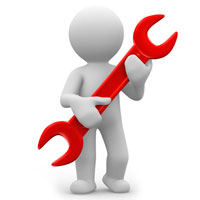 All products sold at Ecolocity® LED have a limited warranty period. See product pages for warranty information.

Ecolocity LED will honor this warranty on any products that fail during normal use due to manufacturer's defect and have been installed and connected properly.
Once received our technicians will determine the cause of defect.

Company warrants that the goods are free from manufacturing defects in material and workmanship under normal use and service for a warranty period as stated on the product web page from the date of purchase to the original end user. Warranties do not extend beyond the original end user. Claimant must furnish proof of date of purchase. Company will provide replacement goods or may opt to reimburse the purchase price if that is infeasible. Company's sole liability with respect to any defect shall be for the replacement of the defective goods. Company will not be responsible for any costs relating to the labor of the replacement products. No one is authorized to make any other warranties on behalf of Company, or modify this warranty, except in a separate written paper document under original signature of a corporate officer of Company then-listed with the Nevada Secretary of State.
COMPANY WILL NOT BE LIABLE FOR INCIDENTAL OR CONSEQUENTIAL DAMAGES ARISING OUT OF OR IN CONNECTION WITH THE USE OR PERFORMANCE OF THE GOODS OR OTHER INDIRECT DAMAGES WITH RESPECT TO LOSS OF PROPERTY, REVENUES, LIFE OR LIMB, PERSONAL INJURY, AND CLAIMANT'S REMEDIES SHALL BE LIMITED TO REPAIR OR REPLACEMENT OF NONCONFORMING GOODS.
Here is a list of exceptions to our warranty policy:
Damage due to mishandling or abuse of the product.


Not using a voltage regulated power supply to connect LEDs products or controls.


Connecting LEDs to the wrong Output Voltage.
Example: connecting a 12VDC system to a 6VDC power supply.


Improper connection of power supplies, LED products or controls.


Connection of LED products or controls directly to any A/C power source.


Connecting Power Supplies backwards to an A/C power source.
Example: connection the 12VDC output of power supply to the A/C input line.


Using products in an extremely hot environment.
Example: using a non ventilated box in direct 120° sunlight.


Water damage to non waterproof products.


Electrical power surges.
Note: It is recommended that if there is a possibility of power surges then you should consider a surge protector for the incoming A/C power line.


Damage from Lighting or Electrical Storms.


Acts of God.
Example: hail, flooding, tornado, fire, wind


Products or electronic components that have been modified by the user.


Products used for purposes other than intended and directed.


Products damaged by connection to LED systems or components not purchased from Ecolocity LED.